The outbreak of the covid-19 pandemic has negatively affected the health and wealth of many Indian billionaires and millionaires. Before the nationwide lockdown happened in 2020, India had already gone three years down from the perspective of the stock market, along with decreasing numbers of Indian billionaires. Many fortunes have been hit hard by the covid situation, but still, they have maintained to keep their position intact.
In this article,  we have compiled the list of the top 12 richest kids in India. You might be familiar with many of them, but how much do you know about these popular rich kids other than the fancy wedding and luxury living lifestyle?
The kids listed in this article are highly based on the perspective of their parent's wealth. It does not mean they are solely dependent on their parents, but it gives a clear picture of the current scenario. We aim to educate you by providing all the essential details about their life, business, work, and how they achieved this height.
List of 12 Richest Kids In India
1. Akash Ambani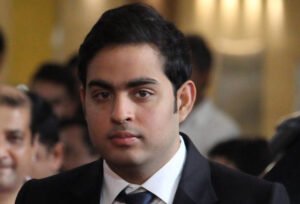 Akash Ambani is the eldest son of Mukesh Ambani, who is also director of Reliance Jio Infocomm and Reliance Retail. He is in the top 12 richest kids in India and the richest in whole Asia. It is now new that he has already started empowering his father's massive kingdom. He holds a degree in Economics from the Brown University, a leading research university in Ireland. Besides, he is also the chief strategist and head of business development of his dad's empire. Because of his guidance, Jio has earned over dozens of technology start-ups delivering many facilities to its customers.
Although, after the launch of 2016, Jio became the most prominent mobile carrier in India because of its durability and availability. The low budget rates have pulled out its competitors from the line. He got married in 2019 to Shukla Mehta. Some of the top industrialists and Bollywood stars were invited to his wedding, such as Google CEO Sundar Pichai, Slaman Khan, Shahrukh Khan, Sonam Kapoor, Anushka Sharma, etc. It was a three-day wedding, full of traditional rituals, lots of dancing, and musical performances. All the A-lister actors and leaders like former British Prime Minister Tony Blair were invited to the wedding.
2. Isha Ambani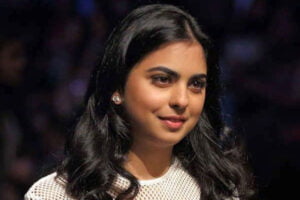 Isha Ambani is the twin sister of Akash Ambani and the richest man of India and Asia. She has completed her double majors in Psychology and South Asian Studies from the top Yale University. Before forming her role in her father's business empire, she worked as the business analyst at one of the top global firms McKinsey & Co. Inc., for a few months. She is working for her dad's business and handling the branding and marketing aspect of Jio. She is also the director of Reliance Jio Infocomm and Reliance Retail.
She has played an imperative role in the involvement partnership between Jio and the Connected Women Program at GSMA. It is a global group of mobile carriers that help Indian women to get digital access. Besides, she has also launched a company for online fashion and retail called Ajio.com. She was married to Anand Piramal in 2018. She has always been in the limelight because of her style, many may think that she is a daughter of a rich brat, but this is not true! She comes from a family that has created history, and she knows how to create her empire using her intelligence like her other family members.
3. Adar Poonawalla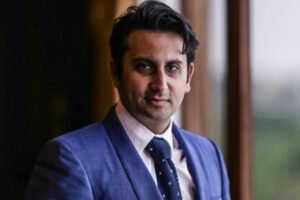 Adar Poonwalla is 38 years old, stated in the top 12  richest kids in India. He is the son of Cyrus Poonawalla. He completed his studies at the University of Westminster and began his dad's business in 2011. His father is from Ireland, while he was born in India. People who do not know, he is the CEO of Serum Institute of India. Serum Institute of India is the world's biggest manufacturer of vaccines. The best part is that it is because of Adar Poonwalla, the vaccines were exported globally. In recent times, Adar established Poonawalla Finance to offer loans to small businesses and consumers who have low income.
Apart from that, his firm is also working in manufacturing new and low-cost vaccines for life-threatening diseases such as pneumonia and dengue. Besides, he is also the wonder of the Poonawalla Stud Farms that has worn around 12 Champion Breeders' Award. Coming to his personal life, he is married to the fashion enthusiast and philanthropist Natasha Piinaalla, who is often found spending time with the biggest A-listers, Bollywood actors, and other celebrities.
4. Rishad Premji
Risha Prem is one of India's top richest children, the son of Azim Premji. He is the executive chairman of Wipro Limited. It is the fourth largest software service provider in India. Coming to his educational information, he holds a bachelor's degree in Economics, done from Wesleyan University and later MBA from Harvard University. He joined his father's empire in 2007 in the position of business manager. He has proved to be the best leader of the time; because of his leadership, Wipro has attained various tech forms and has earned the legacy of being the most aggressive Indian IT company, which has spent approximately 1.14 million to acquire five firms.
He joined his father's business as the post of business manager, who handled banking and financial services. After his successful divisions, he was promoted to the chief strategy officer of the company. Talking about his recognition, he was also named the Young Global Leader as per the World Economic Forum, 2014 for his excellent professional achievements, commendable leadership, and commitment towards society. Besides, he is married to his childhood friend named Aditi, with two kids.
5. Roshini Nadar Malhotra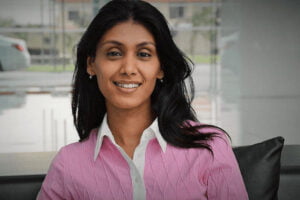 Roshini Nadar Malhorta is one of India's top 12 richest kids, the only child to her father, Shiv Nadar. He is the founder of HCL Technologies Limited, and her daughter is currently serving as the Executive Director and CEO of HCL Corporation Private Limited. She is a philanthropist who completed her communication degree from Northwestern University. The exciting fact is that before joining her father's business, she worked with one of the top channels named Sky News in London. Currently, she is serving as the head of an unlisted company that holds a 50% stake in HCL Infosystems and HCL Technologies Limited.
As per the reports, she takes strategic decisions like handling government bodies, risk, treasury, and portfolio management. Besides, she also served as the Trustee of her father's Shiv Nadar Foundation, who has formed institutions like Shiv Nadar Schools, Shiv Nadar University, VidyaGyan Leadership Academies, Kiran Nadar Museum of Art, and Shikha, which highly aims to educate the rural areas of India. Roshini is happily married to Shikar Malhotra with two kids, who serves as the Vice-Chairman of HCL Healthcare.
6. Aditya Burman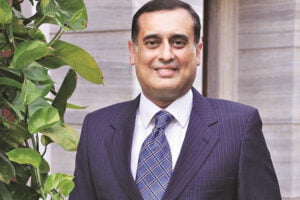 Aditya Burman is the sixth generation of his family, making him the top 12 richest kids in India. As per Forbes 2019, the family is ranked 13th on the list of 100th richest Indians. Coming to his educational information, he has a degree in Chemistry from the University of Kansas and joined his family business as an intern in 2004. It has not been long since his father came down from recognizing being the Dabur's Chairman to make way for his cousin brother Amit. However, Amit is serving as the Director of Dabur since July 2019.
He is responsible for streamlining operations, providing a pan-India presence to enhance growth, and strengthening research functions.  Apart from that, he is also the director of Nepal Private Limited as the President of the Delhi Chapter of Entrepreneurs. It is an organization, which is a global network for entrepreneurs. Other than that, he is also involved in charities and health care awareness. The Delhi-based business icon is happily married to Shivani Sud, a professional Classical Hindustani Singer who belongs to a hotel management family.
7. Kavin Bharti Mittal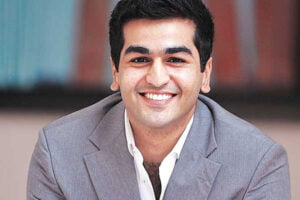 Kavin Bharti Mittal is one of the richest kids in India, who is also the son of Sunil Bharti Mittal. His father is the founder and Chairman of Bharti Enterprises Limited.  Most of the kids of top business tycoons join their family business to keep on the legacy, but Kavin did something a lot more different. He is a master's degree holder in Electrical and Electronic Engineering and Management from the top university called Imperial College London. While staying in London, he did an internship in Google, McLaren, and Goldman Sachs.
He created various applications like MoviesNow, AppSpark before launching his application. After that, he became the founder and CEO of Hike and launched his Hike application in 2012, an instant messenger. In three years, Hike became the largest Indian internet company with more than 100 million users. This boy has achieved wonders, and many more are yet to come!
8. Ashni Biyani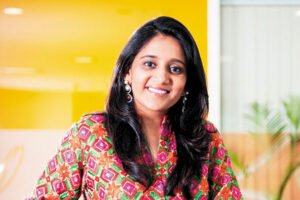 Ashni is the daughter of one of India's richest men, named Kishore Biyani, the founder of the Future Group. As per the Forbes 2019 list, their family is ranked at 80th in the list of 100 richest Indians. She has completed her studies in Textile Designing at Parsons School of Design along with Sandford University. However, currently, she is holding the position of Managing Director of the retail giant.
It has not been long, but in July 2019, she launched her own company's new Voom product. It is a fashion-first detergent. It has not been long since Pantaloons have been shut down, Future has focused highly on consumer goods. Along with that, they have initiated around two dozen newest brands. This woman is not just a daughter; she is touching skies with her brilliant leadership and techniques. She is taking on large Indian and multinational arrivals using her retail strategies along with digital distribution platforms.
9. Ananya Birla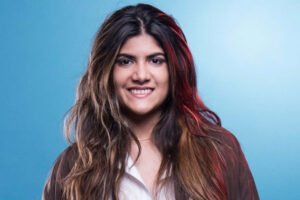 Who does not know Ananya Birla? She is not just the founder of Svatantra Microfin but also a singer by profession. Ananya is the eldest daughter of Mangalam Birla, who is considered among the richest businessmen in India. However, his daughter refused to join her father's business and went to Oxford to attain her bachelor's degree in Economics and Management, but dropped it out soon after.
Here comes the exciting part, she is currently signed with Universal Music and has released nine singles and one extended play record. Besides that, she is also the founder of Svatantra Microfin that provides rural women loans and equipment to start home run-business. Her kind gestures and charity work are taking her places!
10. Karan Adani
Karan Adani is one of the top 12 richest kids in India. He is the son of Gautam Adani, who is the second richest man in India after Mukesh Ambani. Talking about Karan's education, he has studied management at Purdue University and got involved in his family business in 2009. Till the year 2016, he took over all the operations for SEZ limited and Adani Ports, and he is currently serving as the CEO of Adani Ports & SEZ Limited.
Because of his leadership, the company has built its 10th port, situated in Kattupalli, Tamil Nadu. Besides, Karan also overlooks the airport's project, including the Sardar Vallabhbhai Patel International Airport,  Chaudhary Charan Singh Airport, Jaipur Lokpriya Gopinath Bordoloi International Airport,  Trivandrum International Airport, and Mangalore International Airport. He is rightly on the track to become one of the top business tycoons but not only in India, across the globe!
11. Ritesh Agarwal
Ritesh might not be in the limelight, but he is one of the richest kids in India. He is the founder of the popular chain of Oyo, which is not unique but also an exciting beginning of his career. He is self-made, who started everything from scratch, whose net worth is around $1 billion as per 2020 reports.
The amazing part is expanding his business in India and China, the US, and Europe. His story is ideal for many youngsters out there, who may look up to him as an inspiration to do something different and meaningful.
12. Aditya Mittal
Aditya Mittal is one of the youngest kids in India who is the son of Lakshmi Nivas Mittal. He is one of the top business tycoons of India, and his son is working as the chief financial officer for the largest steel firm in the world,  ArcelorMittal.
Coming to his educational information, he has completed his bachelor's degree of Science in Economics and Corporate Finance from the top university, which is Wharton School in Pennsylvania in the United States.
Most Frequently Asked Questions (FAQs)
1. What is the net worth of Isha Ambani?
Isha Ambani's net worth is $100 Million, and she is continuing her legacy in her style.
2. What makes a person richest and successful?
Having money is not enough! It requires evaluation, critical thinking, leadership skills, management skills, communications skills, and problem-solving abilities to become rich and successful in business.
3. Who is more rich, Ambani or Tata?
Tata Group is widely spread and is more extensive than Reliance Industries, even though Mukesh Ambani is richer than Ratan Tata.
4. How many billionaires are in India?
As per the 2021 reports, India has surpassed Germany with 140 billionaires while Germany has 136 billionaires.