Indian women are topping the charts for their looks, grace, styles, and fashions. When you are hitting your 30's, a perfect hairdo or some trendy hairstyles are all you need to give the necessary boost to your life.
It is an apt time when you can slightly mold your personality to give yourself a new look. With new opportunities, desires, and responsibilities that arise after crossing 30, you can also gift yourself a new hairstyle.
Thousands of hairstyles and haircuts are available all over the world, but you tend to style up according to your age, culture, and attire. The splendid looking hairdos' are well-blended with all of these.
Though the Indian styling factors are changing daily, here you get to see a few of the trending hairstyles. You will get a glimpse of the most-loved and evergreen styles that is suitable for any day or any particular occasion.
Impressive Hairstyles for women above 30
1. Pinned back twisted rope-style hair

The twists and turns in your hair give a unique look. The front portion of the hair is twisted and pulled back. Use bobby pins to secure it at the back. The strands of hair can be crisscrossed and overlapped on each other. This cute hairstyle can be matched with some bright colored long gowns. Let the soft curly waves keep flowing down.
2. Elegant Twisted Up-do with open straight hair

This one is also a similar kind of a twisted hairstyle. The twisted hair is pulled back and pinned properly with some hair accessory. Let the rest of the hair be open straight hair for this elegant look.
3. Voluminous-curls Ponytail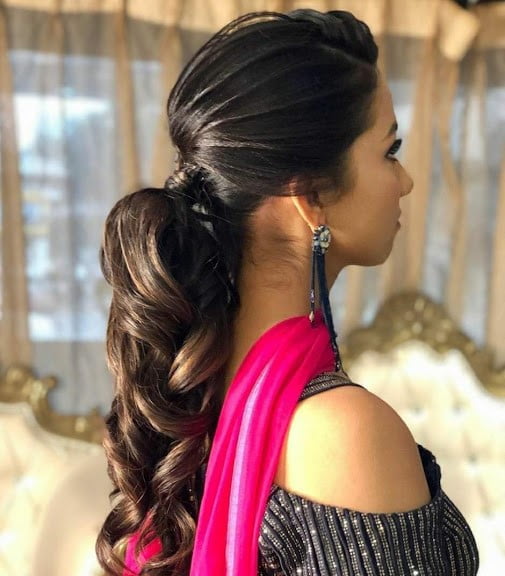 Many 30 years old working women prefer ponytails. But for a few, it may become very obvious and boring. Add a wow-factor to this hairstyle and make it voluminous. Spice it up and try to make some tiny braids if you have time to prepare your hair for the D-day. All these braids will end up in the ponytail.
4. Burgundy Beach Waves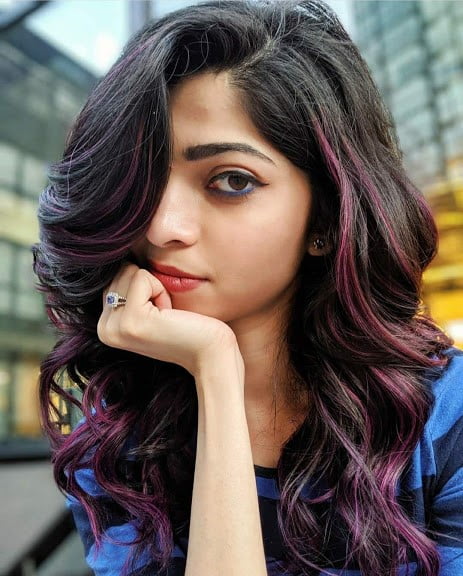 Add color to your hair for the sparkle. These types of waves are ideal for middle-aged women. Give yourself a make-over this season with burgundy color. Enjoy the bouncy feel in your hair. This marvelous hairstyle for women over 30 can make you feel like a celebrity.
5. Sophisticated Ponytail with Soft-curls

Now the messy ponytail is history, women are going for a sophisticated one. Opt for a jeweled style in your ponytail. Let the pony be with soft curl giving a perfect bounce.
6. Daisy Braid with flowers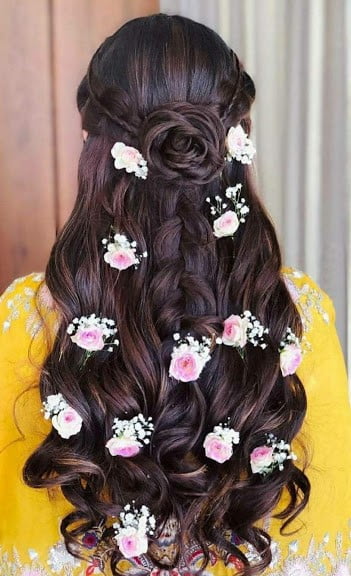 If you love flowers and keen to add it to your hair, try this hairstyle. This is the perfect fairytale look you could ever wish to flaunt. Make two braids from either side of your frontal locks. At the back, make a small rose with twisted hair from both the braids. You can make a braid at the back or you can skip this step. Add ample flowers to decorate your cascading curls.
7. Up-do with Cascading Curls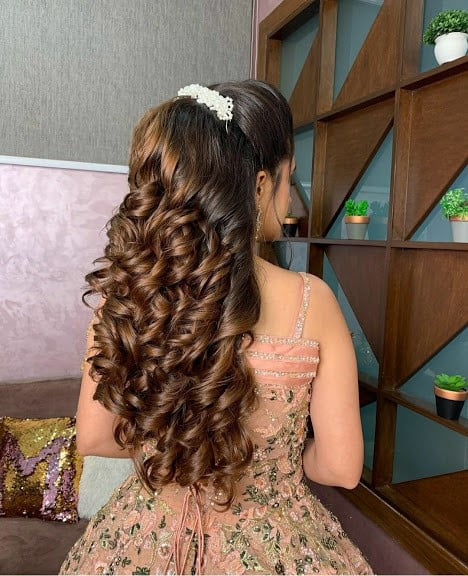 If you love your hair, you would love to flaunt. This hairstyle is fabulous for women above 30 as it is easily done with very little effort. And it looks awesome on colored hair. You only need a hair accessory to hold your hair on top. Curl the rest of the hair and let it flow. This Indian hairstyle goes perfectly with any Indian, ethnics, and traditional outfits.
8. Braided Bun with Braided Headband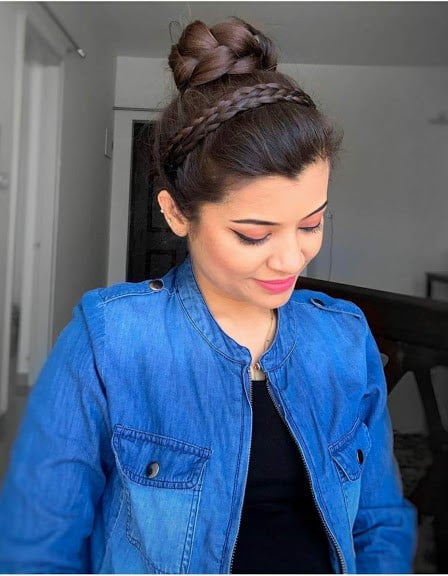 Are you in love with braids? If you possess a voluminous one, try to add braids as headbands. You need to do two small braids on the sides and pin it as a band. A long braid can be formed at the back and bring it in a bun style. Your lovely tresses will look gorgeous.
9. Bubble braided style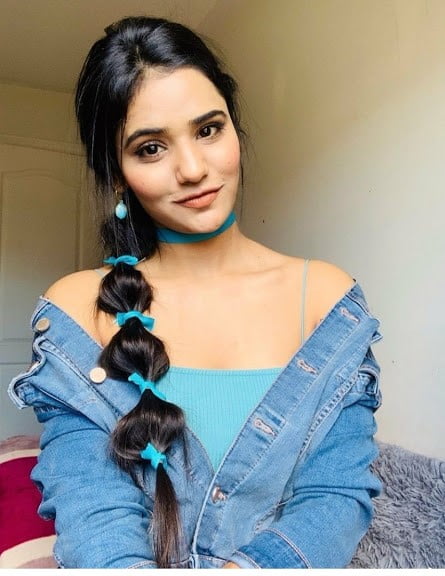 Another casual hairstyle is the bubble braid style. Use ribbons to form the bubbles and match it up with your western wear. This hairstyle looks awesome for thin-haired women.
10. Diffused Curls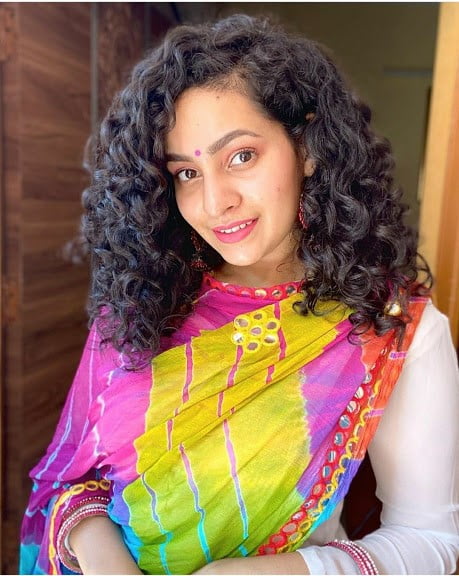 You sometimes wish to get straight hair that would make you look elegant and classy. But do you know that your curls are your treasures? Embrace it all with the help of a hair diffuser to obtain the defined curls.
11. Royal Curls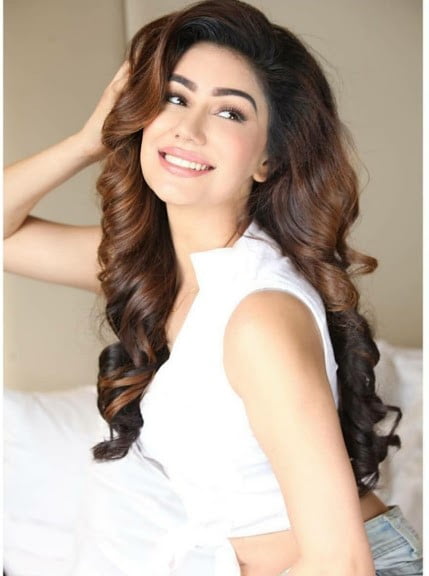 You would hardly need 5 minutes to get the royal touch to your hair. The royal curls are for medium lengthen hair which can be easily formed with the help of a round brush and a hairdryer.
12. Rose Bun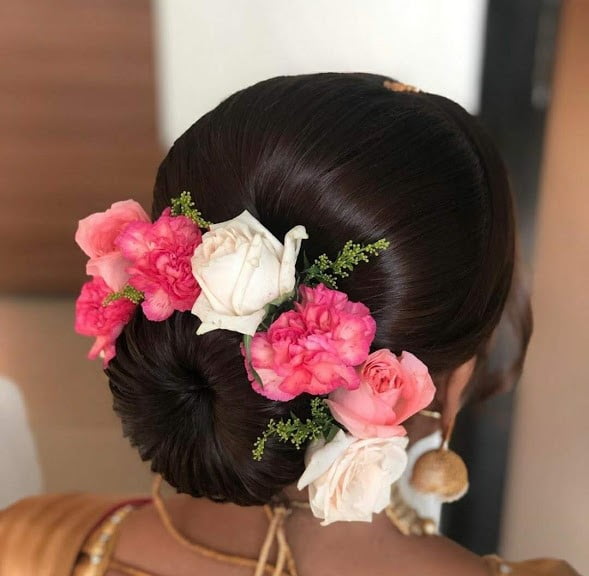 Get this divine look for any wedding occasion or any family functions. When you are not in a mood for jasmine flowers, try the rose bun for some change in style, attitude, and grace. Simply use various colors of roses to decorate your bun coordinating with your outfit. You can also choose only red roses for this.
13. French Braided Half Bun

This is one of the cutest hairstyles for the young-at-heart ladies. Remember, age is just a number, and women above 30 can look cute. Try it if your hair is short. A small French braid in the middle which ends in a half bun is what you need to do. Let the rest of the hair remain open and flowy. The hairstyle provides a youthful and casual look. You can match it up with your jeans and casual t-shirts.
14. Top Half Pony with Messy Curls

Are you searching for hairstyles that match up with the different shades of sarees and lehengas of you? Ideally before trying any hairstyle, blow and dry your hair. Tie a half pony at the top. Curl the rest of your hair fully to give this hairstyle a thumb's up. This is one of the recent styles that you can flaunt on special occasions. Moreover, it is quite an easy job to accomplish.
15. Layered with Soft Waves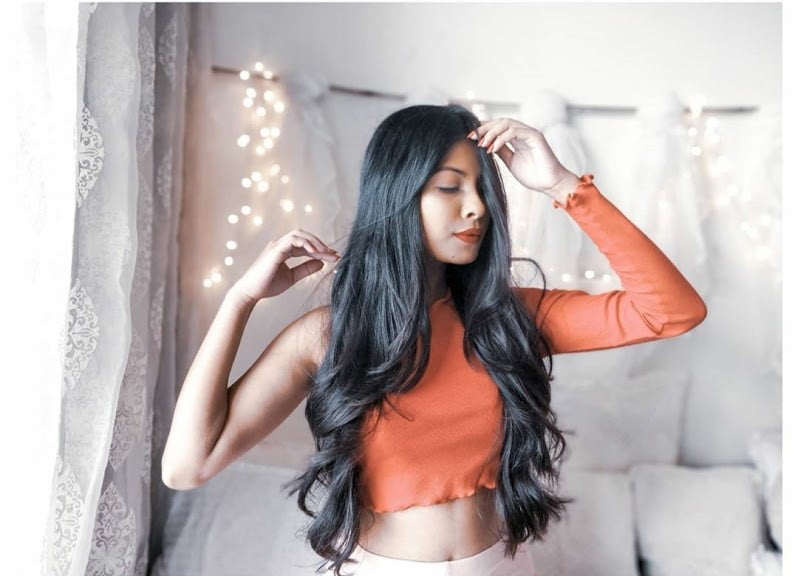 When you are opting for layered cut, texture layers look best on all types of hair. Mainly for thin hair, women above 30 should go for this cut. It gives a lot of textures and volume for the short to medium lengths. The soft waves give enough style statement to your overall look.
16. Pulled-Back Ringlet Bun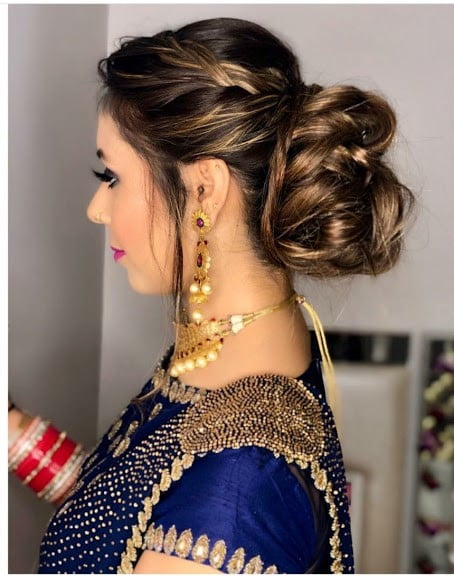 Do you find bun boring for your hair? You won't feel it so once you try this pulled back Ringlet bun. The front part of the hair is pulled back in the form of the sideways French braid. Use bobby pins to pin the small section of hair that is rolled and made rings. You can give a messy touch by allowing a few front locks to be free. This is a pleasant bun style for the wedding or party look.
17. Waterfall Layers

Waterfall layers are for those with medium to long length hair. It looks stylish on colored hair. Let the waves have some fun while you can be carefree in your world. If you are having fuller cheeks, then layers are perfect for you. Long layered hair that falls to your waist line brings out a new you.
So ladies, here you get to see 17 trending hairstyles that will suit your Indian hair. Try out any of these rocking hairstyles for 30 years old women. Love it, flaunt it!