Our foot gets the least attention as compared to our face. Especially during winters, your overworked feet require the most care. The occasional treatment and pedicure seem insufficient to heal your dry skin and cracked heels.
Remember, your feet carry the entire weight of your body which results in hardened skin and cracks on the foot. As you target to achieve smooth and healthy foot skin, a good foot cream would ease your path.
As the temperature drops, the dryness in the air increases making your skin dry. So, good hydration and moisturizing your feet will help you get rid of cracked heels. Foot cream for the cracked heel is the best option.
Reasons to have Cracked Heels
This common foot issue is responsible to create discomfort while walking and wearing footwear. Though most people feel it to be a not-so-serious issue, it may create a lot of pain for some. It can be found both in adults as well as children, but it affects women more than men.
Few reasons to have cracked heels are:
If you keep standing for long hours creating pressure on your feet
When you walk around barefoot on rough surfaces or with open back slippers
When you use harsh soaps with chemicals that can take away the natural oils from your skin
If you continue taking long hot showers
Wearing not-so-good quality shoes that support your heels
Seasonal changes like the winter season or low humidity weather conditions can also create this problem
Tips to Heal Cracked Heels at Home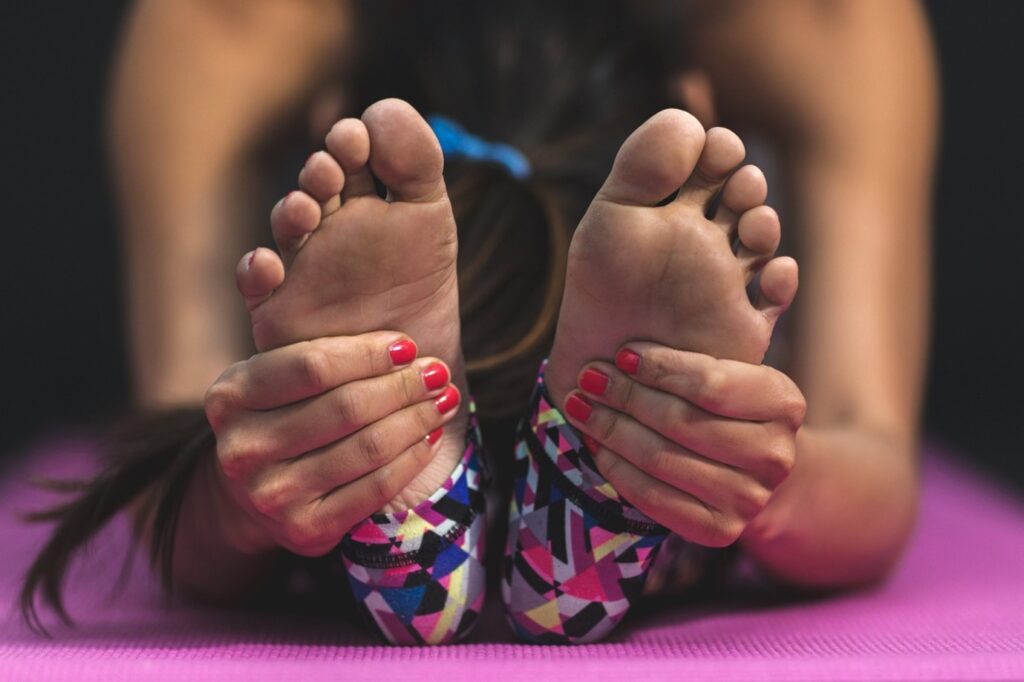 If you feel ashamed to remove your shoes in public, then it's high time that you start taking care of your feet. Remember, it's the absence of good care of your foot hygiene and health that makes heels crack.
1. Apply thick moisturizer or heel balm
If your cracked heels are creating a lot of pain while doing activities, you need a thick heel balm or moisturizer. These foot creams for pain are specially curated with ingredients like urea, salicylic acid, alpha-hydroxy acids, saccharide isomerate, etc. that are meant to moisturize, soften, and heal your cracks.
Some of these foot infection creams may cause a little irritation to your heels. You can take that as normal. If the irritation persists or increases in severity, you need to consult your doctor.
2. Moisturize your feet in the morning
A healthy tip for treating cracked heels is to moisturize your feet in the morning before you start your day. This will make your skin more elastic. It is best if you can use the moisturizer twice or thrice a day. In addition to that, try to wear shoes to protect your feet.
3. Do a honey scrub
To make a honey scrub for your foot, you need 3 tsp of rice flour, 2 to 3 drops of apple cider vinegar, and one tsp of honey to make a thick paste of these things.
First, you have to soak your feet for 10 minutes on lukewarm water. Then, you need to scrub your heels using the foot scrub you have prepared to remove dead skin.
Rice flour helps to exfoliate, purifies, and adds minerals to your foot skin. The natural antiseptic is honey which helps to cure your cracks. The slightly acidic-natured vinegar helps to exfoliate your skin easily.
4. Soak and exfoliate your heels
The thicker skin around your heel cracks is hard to remove. Because of its dryness, it gets splitter if you apply pressure. The best way is to soak it in lukewarm water and mild soap. This will also help you to clean your feet. Use a pumice stone or a foot scrubber to remove that hard and thick skin. Pat dry and apply moisturizer. Try to wear a pair of socks to keep the moisture intake.
5. Apply coconut oil
As you all know, coconut oil is best for dry skin. Its antimicrobial and anti-inflammatory properties help to heal the cracked heels.
Essential Foot Care Tips for Winter
Moisturize regularly during winters would keep your feet away from cracked heels and discomfort.
Keep your feet clean by soaking and exfoliating them to keep all dirt, dust, germs, fungus, and other unpleasant things.
Wear the right socks for your feet and season.
Give your feet some rest.
Try some exercise for your feet.
Special care must be taken for diabetic patients. You can use foot cream for a diabetic to get better results.
Pedicure can be great for happy feet.
Home Remedies to Regain Beautiful Feet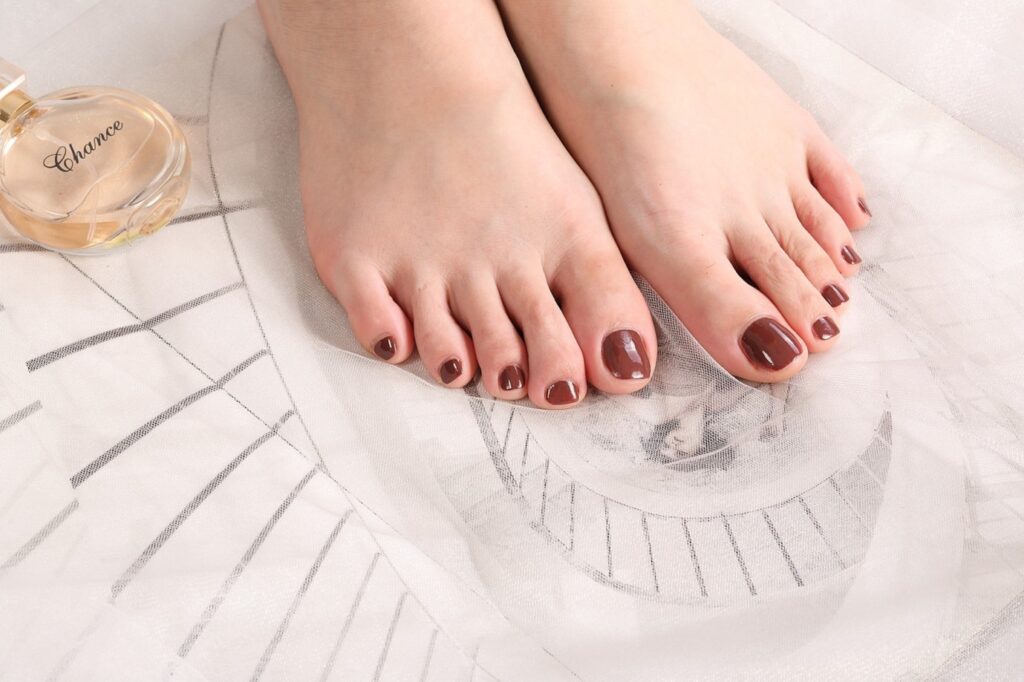 Apply a smooth paste of ripening bananas on your entire feet and keep it for 20 minutes. Gently rub all over and then rinse it.
You can apply shea butter to keep your feet moisturized.
You can also make a foot pack with oatmeal and olive oil and treat your heels.
Apply aloe vera gel generously on your heels and toes.
Side Effects of Using Foot Creams
Normally, these foot creams for dry skin are harmless with no side effects. If at all, there can be some rare effects like skin irritation, itching, rashes, or redness. It is suggested to consult a doctor in case any side effects are experienced. Foot cream for fungus may have some side effects, so before using any such, take your doctor's recommendation.
12 Best Foot Care Creams in India
1. Life & Pursuits Real Organic Heal the Cracks Organic Foot Cream
This foot cream is a new blend of natural ingredients and oils that soothe hard, dry skin on pores and feet. It moisturizes and softens them naturally. It also relieves discomfort and prevents fungal infections. This foot cream moisturizer has heel-damage repairing properties as it contains tea tree oil & shea butter.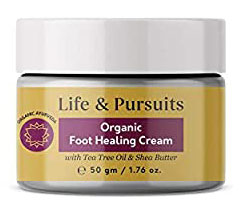 Key Features:
95% natural ingredients allowed
No urea
No mineral oil
No artificial fragrance
No synthetic colors
No parabens
No silicones or other chemicals
No BHA or BHT
2. Bio Bloom Skin Care Foot Cream
This foot cream contains pure vital oils, like Eucalyptus oil and other pure essential oils, to repair chipped and cracked pores. When applied to the foot, it has a soothing effect that provides a refreshing and rejuvenating feel. The simple, soft texture absorbs quickly and easily into the pores and skin.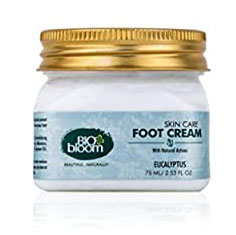 Key Features:
100% chemical-free
Paraben-free
No artificial fragrance
It has pure ingredients.
3. Palmer's Cocoa Butter Formula with Vitamin E Foot Magic
This product is a formula enriched with pure cocoa butter and vitamin E, with pure emollients that penetrate the pores and soothe hard, dry pores and skin on the feet. It also contains peppermint oil to restore dry feet.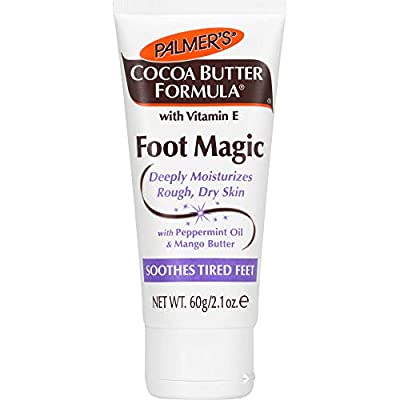 Key Features:
Non-drying
Packed with moisturizing ingredients
It does not irritate pores and skin.
Pleasant smelling fragrance
4. Burt's Bees Coconut Foot Crème
This is a deeply moisturizing foot cream. It is enriched with coconut oil and a blend of herbal extracts that fight against the dryness of skin and heal the feet along with its pores. It also contains peppermint oil to rejuvenate your feet and make your feet feel light.
Key Features:
4% pure ingredients
Preserves Vitamin E
It contains no harmful compounds.
It provides faster results
5. The Body Shop Peppermint Intensive Foot Rescue Cream
This peppermint foot cream from The Physique Store will soothe your feet in a day. Made with English peppermint oil, it rejuvenates dry feet, softens pores and skin, restores the moisture barrier, and maintains moisture levels for hours. It softens pores and skin, restores the moisture barrier, and maintains moisture levels for hours. It also contains grape extract for an exfoliating effect.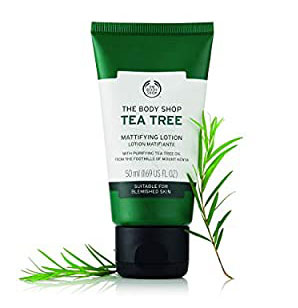 Key Features:
Pleasant smelling fragrance.
Does not irritate pores.
Moisturizing
Fast results
Cooling effect
6. Soultree Hand & Foot Cream
It has intense healing and repairing ingredients for all hands and feet. This ultra-hydrating cream promotes cell regeneration and nourishes the palms of hands and feet, making you feel all soft and smooth. It contains kokum oil, aloe vera, honey, turmeric, coconut oil, almond oil, organic sesame oil, and apricot oil.
Key Features:
Suitable for all skin types
100% natural product
100% vegetarian
Not tested on animals
BDIH Germany license
No parabens, phthalates, or mineral oil.
No petroleum jelly or perfume.
Silicone-free and lead-free
7. Natural Bath & Body Lemon Chamomile Hand & Foot Cream
This foot cream is made of natural chamomile oil and lemon extract. It has antibacterial properties, prevents flaking, and soothes the feet. It contains pure oils like sesame oil, almond oil, and avocado oil which helps in hydrating your pores of the skin and moisturizes your feet well. You can also use it to keep your palms smooth.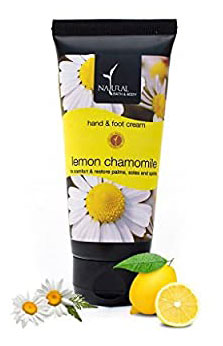 Key Features:
Paraben-free.
Does not contain petroleum jelly
Does not contain hazardous compounds
Pure ingredients
8. Himalaya Foot Care Cream
This foot itching cream contains fenugreek seeds, turmeric extract, honey, and sandalwood. It is an Ayurvedic formula that is supposed to make your feet as soft as a feather with weekly use. It naturally restores chapped pores and corrects extremely dry skin.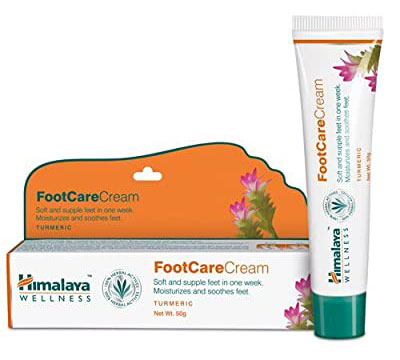 Key Features:
Softer skin
Inexpensive
Non-stick (perfect for summer)
Pleasant natural scent
9. Oriflame Feet Up Advanced Foot Cream
If your heels are hard and cracked, this foot cream is for you. They say that the best ingredients will melt and improve your feet in just three days. It is made of cocoa butter and minerals blended to reduce dry and rough feet. This is a good one to be used as a foot cream for athletes.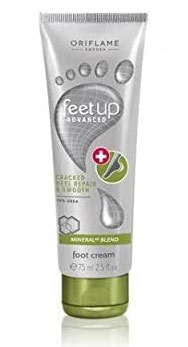 Key Features:
Clinical trials
Dermatological tests
Soothing scent
10. Just Peachy Miracle of Aloe Miracle Foot Repair Cream
This foot cream contains 60% Aloe Vera to treat dry, hardened skin on pores and feet. It contains repairing brokers that keep feet moisturized for hours and relieve itching. This fast-acting cream works by penetrating deep into the pores and skin. There are natural ingredients like Aloe Vera, Vitamin E, kiwi, and cucumber, which have multiple beneficial effects on your feet.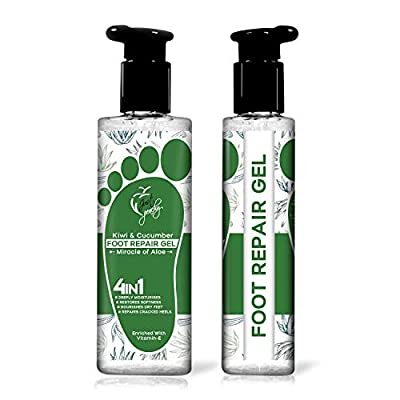 Key Features:
Natural ingredients
Preliminary results
Considerations for diabetics
11. Probelle Advanced Total Foot Cream
Designed for foot health, this cream cares for your feet by softening and rejuvenating your pores and skin. It improves circulation and soothes cracked heels. It contains pure extracts of aloe vera, avocado, and tea tree to nourish pores and skin.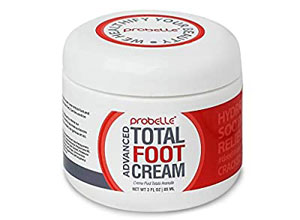 Key Features:
Preserves pure oils and skin-friendly
Plant and crop extracts.
Non-sticky
Fast-absorbing ingredients
Helps heal tired bodies
Paraben-free
12. Honeydew Shea Butter Moisturizing Foot Cream For Dry And Cracked Feet
This foot cream contains shea butter, jojoba oil, coconut oil, and avocado oil for soft feet. This therapeutic cream is meant to cleanse and nourish your pores and skin, leaving you with baby smooth skin.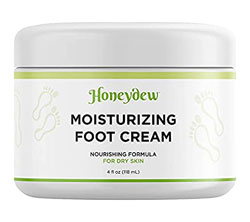 Key Features:
Moisturizing ingredients hydrate pores and skin.
Allows cells to regenerate
Fresh and natural fragrance for women and men
Safe and effective
Detoxify your feet with an advanced moisturizing formula
Fights skin dryness and irritation
100% natural
Cruelty-free
What to Consider Before Buying a Foot Cream?
Components:
Foot washers use a variety of components. These chemical components can harm your skin and cause problems such as itching, sensitivity, and allergic reactions. This product uses ingredients such as jojoba oil, shea butter, tree tea oil, vitamin E, glycerin, and urea. It is recommended to choose a natural foot cream that contains these pure ingredients.
Practicality:
It is good to use a natural foot cream that contains pure ingredients. You also need to know how and when to use the cream for the best results.
Value:
Keep the finances under control. However, make sure you invest in a natural foot cream. You will be able to invest in a natural foot cream. By investing as little or as much as you can, you will get an excellent product that will have long-lasting effects.
Pros & Cons:
It is very important to address all leg problems. These include cracked heels, calluses, etc. Ignoring these can lead to severe pain in the long run. Likewise, applying a foot cream to damaged pores and skin can make the situation even worse in an undesirable way instead of treating it.
They are available in all foot formulas suitable for all foot types and now on the market. Go ahead and determine what you think will pamper your feet.
Disclosure:
This post contains affiliate links to products. When you purchase through links, we may earn a small commission, at no extra cost to you.